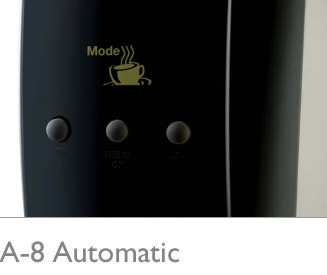 All the experience gained during more than 5 decades and the passion for innovation join together to create the new A8; a totally automatic coffee grinder that facilitates the training of catering staff, guaranteeing an elevated level of grinding precision and dosage; with just one hand and in the most intuitive way.
·

Selection of 1 or 2 coffees previously ground (immediate service).

·

Selection of 1 or 2 coffees ground on demand (fresh coffee).

·

Advises when to change burrs.

·

Promotional message in multi-lanuage display.

·

Visualization of date and time.

·

Coffee counter (total and partial).

·
·

Grinding scale display.
Motor power (w):
420
RPM:
1300
ř Grinding disc (in/mm):
3.3/83
Production (lb-h/kg-h):
31-35/14-16
Hopper capacity (lb/kg):
4.2/1.9
Height x width x depth (in/mm):
26x8.3x15/660x210x380